View carb counts in an app badge (iOS only)
Updated On 20 Feb 2021

1 Minute To Read
---
If you use the Carb Manager iOS mobile app, you don't have to open Carb Manager just to check your carb count during the day. Instead, you can display the total number of carbs you consumed or the carbs that are remaining in a badge on the Carb Manager app icon.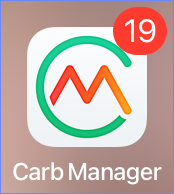 Note: The app badge is only available on iOS devices.
On your iOS device, go to Settings > Notifications, select the Carb Manager app, and turn on the following settings.

Allow Notifications
Badges

In Carb Manager, go to Settings.
In My Settings, select App Settings.
In the Additional Settings section, select Display Carb Count Badge, then select one of the following options.

Carbs Consumed
Carb Remaining
Your carb count appears on a badge on Carb Manager's app icon and the count is automatically updated as you log food. If you chose the option to view Carbs Remaining, the badge will disappear when you consume all of your carbs for the day.
Was This Article Helpful?
---