View progress and gain insights toward goals
05 Oct 2021

3 Minutes to read
View progress and gain insights toward goals
Updated on 05 Oct 2021

3 Minutes to read
---
Share feedback
Thanks for sharing your feedback!
You can view charts of your body and health measurements over time. All Carb Manager users can track weight measurements. If you are a Premium member, you can track a variety of other body and health measurements, including BMI, waist size, blood pressure, cholesterol levels, and more to help you analyze your progress toward your health goals.
Watch: How to track progress toward your goals
View progress charts
The Progress tab displays your health and diet information for a variety of body and health measurements, including body weight, blood pressure, ketones, fasting hours, or exercise minutes.
Within the chart, view actual measurements during a specific time period or view an average of your measurements over time.
Your averages and goal numbers appear below the chart. If you previously set a health goal, Carb Manager displays a summary of your progress for the time period that you select.
All of your measurements appear in the History section below the chart.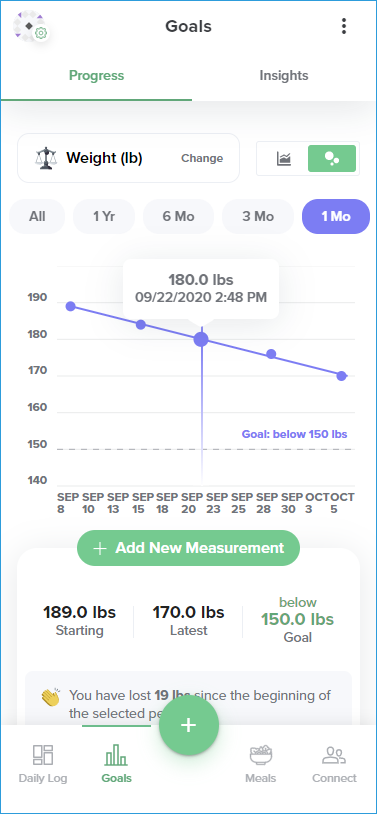 To view your progress, complete the following steps.
Go to Goals in the main menu.
In the Progress tab, select Change to view categories of all measurements that are available.
In the All Measurements screen, select one of the following categories.

Favorites — Includes measurements that you added to your list of favorites.
Weight Measurements — Includes body weight, body fat, BMI, and more.
Body Measurements — Includes waist size, hip size, arm size, and more.
Health Measurements — Includes blood glucose, ketones, GKI, and more.
Energy and Macros — Includes carbs, protein, fat, fiber, and more.
Micronutrients — Includes vitamins and minerals.
Lifestyle — Includes exercise, fasting, hydration, sleep, and more.

In the screen for the measurement category you selected, select an item that you want to track, such as Weight, BMI, Ketones, or Steps.

Tip: Some measurements, such as Ketones, include additional details, such as Ketones Type and Meal Timing.

Select a button for a period of time, such as 3 Mo (months), to view your progress during that period. If you select Custom, a calendar opens where you can select a date range.

Tip: Select Average to view your average measurements during a period of time.

Carb Manager displays your progress and history several ways depending on which measurement you view:

If you hover over points or bars in the charts, you will see the dates and amounts for measurements that you added.
If you previously set a goal for a measurement, the section below the chart displays the period average and summary information about your data compared to your goal.
A list of previous measurements appears in the History section below the chart. Entries appear green if you are below your goal and entries appear red if you are above your goal. You can also edit and delete previous measurements.
If you added photos with your measurements, review your photos to see your progress.
Gain insights from your data
If you're a Premium member, the Insights tab allows you to analyze your Carb Manager data to gain insights about trends and correlations in the information that you track.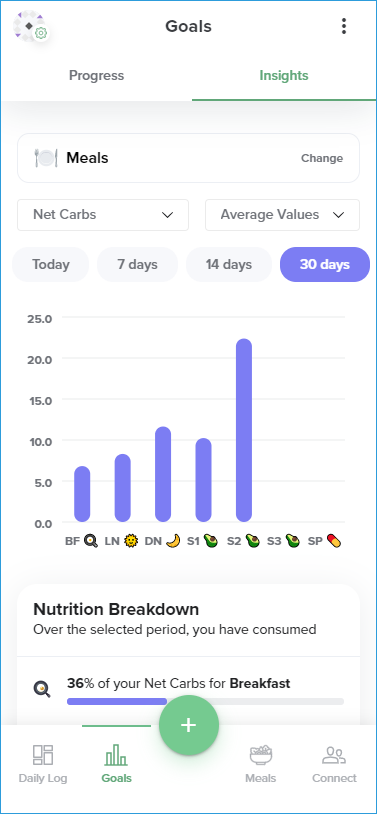 Go to Goals in the main menu.
Select the Insights tab.
In the Insights tab, select Change to view different types of insights, then select one of the following types that you want to explore.
---