Customize meal sections in the daily log
19 Apr 2021

1 Minute to read
Customize meal sections in the daily log
Updated on 19 Apr 2021

1 Minute to read
---
If you have a Premium subscription, you can choose which meals appear in the daily log, including breakfast, lunch, dinner, snacks, and supplements. You can also change the order and name of each meal.
Watch: Hide, rename, and move meal sections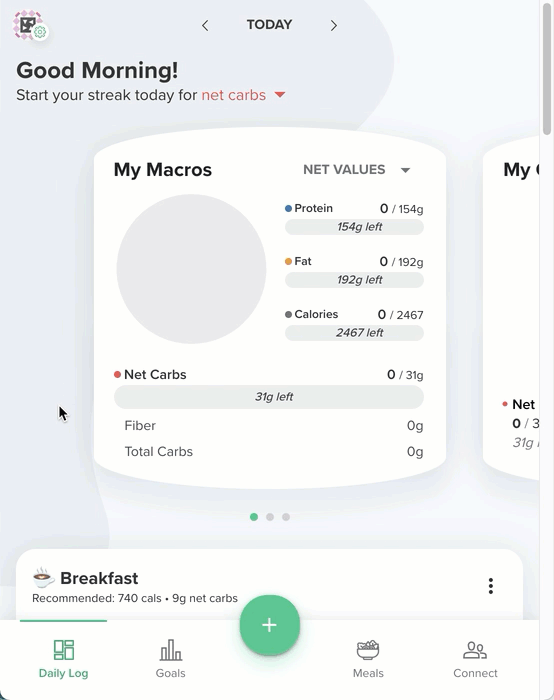 Customize meal sections
Go to Settings.
In My Settings, select App Settings.
In the Meal Preferences section, select Customize Meals.

The Show icon means an item appears in the daily log. The Hide icon means an item does not appear in the daily log.

Do any of the following steps.

Show or hide meals: Select a Show or Hide icon next to an item to determine whether the item appears in the daily log.
Rename meals: Enter a new name for a meal, snack, or supplement. (Note that you can't rename meals that are hidden.)
Reorder meals: Select Reorder next to an item and move the item to a new location.
Change an emoji for a meal section: Select an emoji that you want to change, then in the screen that opens, select the emoji that you want to display.
Carb Manager automatically saves your changes and displays your changes in the daily log.

Tip: If you customize the meal sections and you want to view the meals as they originally appeared, go to the bottom of the screen and select Reset to Default.

If you hid a meal in the previous step, go to Settings > Meal and ensure the total percentage of all meal goals equals 100 percent. See Set meal goals for more information.
---
What's Next